AORA NEON JAM Competition 2019
Rules
Open to all delegates, the junior most postgraduate to the senior most anaesthesiologist.
Participants have to speak for 1 minute on their chosen topic on any aspect pertaining Regional Anaesthesia / Anaesthesiologists.
One slide allowed.
Particpants are requested to register online www.aoraindia2019.com to participate in this session.
An expert panel will choose the winner.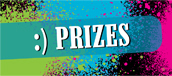 First Prize: Rs 25,000
Second Prize: Rs 15,000
Third Prize: Rs 10,000